Friday, June 12th, 2009
---
4:39 pm
- I'm not dead.
...As above.

current mood:
complacent
Thursday, April 23rd, 2009
---
7:17 pm
- Urrghhh
I had my 4 wisdom teeth surgically removed today, possibly along with a good deal of my wisdom. It's not as bad as I thought it would be but my mouth is still numb 8 or 9 hours later so I can't feed myself properly and keep drooling everywhere. Pretty gross, and I woke up with what seemed to be tampons in my mouth and kept biting my own tongue without actually realising it was my tongue because it too had no feeling whatsoever.

But having it done under general anaesthetic was a very, very good idea. I'm so glad I didn't chicken out of that because I was worried about not waking up, since having them pulled out while awake would have really sucked. All I did was go to sleep like normal and then wake up like normal, albeit wondering where the fuck I was. And with aforementioned tampons in mouth.

I just noticed a lot of my posts have a subject line that is 'urghhhhh' or something similar.

current mood:
groggy
Monday, March 16th, 2009
---
9:19 am
- ...
happy
buttday
to
me
that's all.
current mood:
sleepy
Saturday, February 28th, 2009
---
3:19 am
- Y...
WHY CAN'T I FOOKING SLEEP

current mood:
Forked
Wednesday, February 18th, 2009
---
10:58 am
- THE MEDS
I'M GOING OFF THE MEDS. I'M GOING OFF THE MEDS. I'M GOING OFF THE MEDS.


I just...couldn't do it. They made me too sick and thus unable to do anything, so I just slept all day. I lost a bunch of weight on the plus side but since the rest of me looked like crap it wasn't helpful at all. I actually had people tell me I looked like a cancer patient because I was so sick-looking. Okay, so both of the times that was said to me I had short hair and was wearing a scarf on my head to hide the fact that said hair was unstyled but STILL. WTF.


Although now I have no idea what I am supposed to do otherwise. I'm pretty sure insulin resistance is something I should probably be medicated for so I'm going to have to go to the doctor and find out. Although I swear that if she says to go back on the crappy Diabex I will eat myself.

current mood:
okay
Saturday, February 7th, 2009
---
11:39 pm
- urghhh
I finally got a reply back from applying for a full-time job that wasn't along the lines of 'um...NO'. It is so hard to break into fashion when you're a recent graduate that anything that isn't a no is extremely encouraging.

It's too bad that everyone and their well-dressed dog is going to be applying for it too >____>

current mood:
sleepy
Friday, January 30th, 2009
---
10:42 pm
- Caution: Rant Ahead.
I cut all my hair off again today, the longest section is only about 2 inches. It was just way too hot to have shoulder-lengthish hair. It's been so damn hot this week that my leg got really badly sunburnt yesterday and all I did was walk home in the sun for about 10 minutes... and at like 6pm too. Granted I did get a little burnt on the backs of my legs last week, but it was pretty much healed by yesterday, and also IT SHOULD NOT BE THAT HOT AT 6PM. My sunburn is so bad, that each time I walk, it feels like my flesh is going to burst out of my skin. Delicious.

And kdjhfksjdasda my mouth tastes like blood for some unknown disgusting reason. I am still seasick.

current mood:
sick
Tuesday, January 27th, 2009
---
10:30 pm
- UURGHH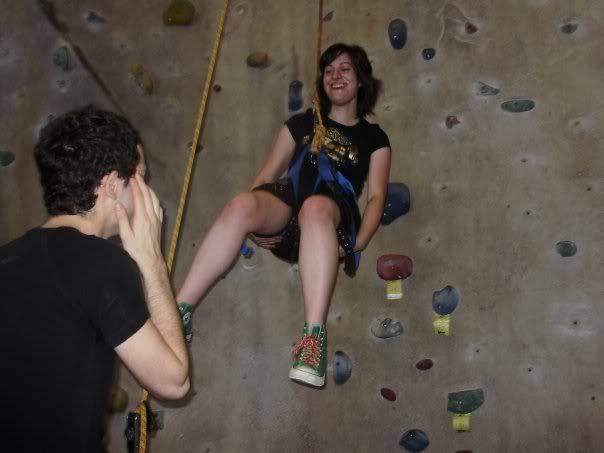 Above is a very bad picture of me from when I went 'rock-climbing' last week. The reason I put rock-climbing in inverted commas is because as far as I'm concerned, a few hand-grips on a wall is a pretty loose definition of rock-climbing.

I feel constantly seasick from these new meds I'm on despite being nowhere near a sea let alone on one, and it's hard to do anything except just lie there like a sack of shit all day. I shudder to think what it might be like to be on full dose if I feel like this on only a third (I took one tablet in total at a half per time today, and I'm supposed to work my way up to three whole tablets per day). Oh well. It's either feel like crap or risk getting diabetes, and I most definitely do not want that.

Oh and did I mention I can't drink anymore or I'll get sick unless I skip my daily dose in advance? ASSBUTT.

I guess all this pales in comparison to that chick a friend told me about the other day who lost all her limbs because she reused a tampon.

Editz: I finally watched Twilight because I was curious about all the hype and... I'm sorry, it was lame. THERE I SAID IT.

current mood:
seasick without sea
Monday, January 26th, 2009
---
6:50 pm
- Bleurgh.
I have spent enough time at the beach over the past four days to get at least some colour if I was a normal person, but am still white as a sheet.

Oh well. I'm happy anyway because I had the stone put back in my tooth and my coffee-stained teeth cleaned. I have a hole D: but it's in my wisdom tooth and I'm getting them removed soon enough so it doesn't matter.

current mood:
eurgh
Friday, January 9th, 2009
---
1:14 pm
- UNGHH
I got de-blooded today three times by two different doctors. I had to fast beforehand so the first time the lady filled about 7 vials of blood in the space of 5 minutes and I started fainting. Then all of a sudden she stopped so I stayed conscious, but my eyes were still blacking out so I couldn't see anything at all. She had to lead me to the bed thingy to lie down until my vision returned, lmao..

The second and third times were fine because she then made me drink some glucose syrup crap and then only three vials were taken each time with an hour's interval in between. I'm not squeamish about blood or needles but I've never been close to properly fainting before so it was a really strange experience.

I've eaten now but I still feel like I'm missing something. Blood, perhaps.

current mood:
dried up
Wednesday, January 7th, 2009
---
9:03 pm
- FUCK YEAH
I passed all my subjects, so now I can get my diploma. WOOHOO

current mood:
relieved
Tuesday, January 6th, 2009
---
1:47 pm
- D:
Urghhh. I have had this flu since Christmas, fo' serious. And it is now Jan 6th.

current mood:
slimy
Tuesday, December 16th, 2008
---
11:54 pm
- Phat
No advanced diploma for me next year, they rang me to say not enough people applied so they aren't running the course. The lady was like 'but you can reapply in 2010!!' and I just thought to myself 'fuck it, I may as well just work..'

I am seriously hoping I passed all my subjects so that I will at least have the diploma now, otherwise I will be pissed off. It's kind of a relief in a way because I didn't really want to continue studying what with being three years out of school already; there is only so much studying you can do. But I could always use the extra skills. Oh well. At least I have this job to fall back on, at least for the moment, until I start getting around to working for free for potentially numerous companies until one of them decides to keep me.

I went to my friend Rosabel's place for dinner with my other friends Cecile and Lin tonight, so I am full of azn food, champagne and chocolate ice cream, and feel like a massive cow. Her son seems to have taken a real shine to me for some reason, and wouldn't leave me alone. It was cute, albeit kinda scary. I played trains with him. Later on when she was putting him to bed she said that he told her he likes me and wants me to come over more often, and that I can sleep in his bed. Lmao.... Kids usually don't like me so this is a first. I think because I tend to treat them the same as other people and don't baby them because they're young, which most kids would be used to. I would just feel like a retard with all the babytalk-mollycoddling shebang, even with really small children and babies. If I had a baby I don't imagine I would talk to it any different than an adult, which might sound really weird to some people, but if they don't understand what the fuck you're saying anyway, then there's no need to talk like a douche.

Speaking of babies, Lin's going back to China to have babies with her husband, I'm so sad! Although she says when she does end up having kids and they get older, she might come back here, since she's a citizen anyway I think. Maybe I should go to China and visit her sometime in the future, when I have money. If I have money >___>

current mood:
Fat
Friday, December 12th, 2008
---
1:00 pm
- I know it's stupid...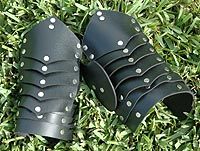 ..but I really want gauntlets.

Lmao

Also the new job is going well.

current mood:
sleepy
Tuesday, December 2nd, 2008
---
8:20 pm
- OW YEAH
TAFE IS DEAD FOREVERRRRRR*





*Until maybe next year.


And I think I have the costume shop job because they told me to start work on Thursday. I will probably be doing really lame things like steaming costumes all day, but if it means I will be getting paid to be surrounded by Elvis suits and Viking helmets, THEN WHO THE FUCK CARES


I think I may have glandular fever again.

current mood:
sick
Tuesday, November 25th, 2008
---
10:03 pm
- lol.
Well, the first 2 parades went ok. Only one more to go. My hat almost fell off my head when I entered the catwalk the second time around though, and it was sitting horizontally so I probably looked retarded. But my friend said she thought it was intentional so I'll just hope that the people watching thought the same thing U__U

current mood:
drained
Sunday, November 23rd, 2008
---
1:53 am
Monday, November 17th, 2008
---
3:29 pm
- Almost there.
FUCK YEAH

I sincerely hope this is the last time I will have to do this. I suck with deadlines.

current mood:
stressed
Friday, November 14th, 2008
---
10:42 am
- "I'm not ginger, I'm auburn" says Prince Harry
..


THAT'S WHAT THEY ALL SAY
Saturday, November 1st, 2008
---
7:53 am
- ARGH
I'M ONLY 20 AND I HAVE THE BACK PAIN OF AN 80-YEAR-OLD

current mood:
OWWIES